Shower Due Date July 22, 2006
I have mapped out a daily plan of what I have to have done in time to have this blocked and dried. So far, the timeline has been changed twice. I know I don't need to have this done for the shower, but this is one of those, that I would like to have done. If not, in time for the baby's birth in October is okay.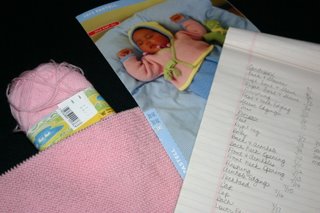 It's slow goin cause it is on size 1 needles, but it is garter which is kind of mindless unless you split the thread.
The sex of the baby is unknown so I am going with the pic as is. There is blue and pink, so both sexes will be covered. Hope the parents see it that way. Whichever, I know it will be appreciated!
EDIT--We celebrated my in-laws 59th anniversary today with brunch. My niece was here and there is a nursery ensemble on her list for the shower. So, I've decided to get it from us and give her the knitted outfit above closer to the baby's due date. So, that can come off the TO BE KNIT list. Back to regulary scheduled knitting - KNIT CAMP!!!!!